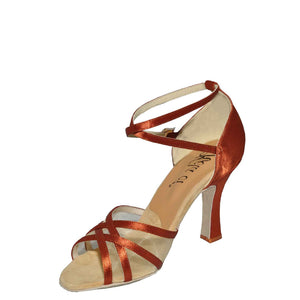 Jizel Mesh Flexi 3" Heel Dark Tan Satin Single Sole SPECIAL LIMITED OFFER
Regular price $140.00 $95.00 Sale
The Jizel Mesh Flexi is part of the Jizel family (also available in lower heel, without the super-flexible sole). It is a gorgeous peep-toe shoe featuring a double front strap with mesh sizes, and an ankle strap. The mesh front keeps your toes from "popping out of the side of the shoe" and has a bit of a stretch to accommodate foot or toe variations.

This series of shoes is available in limited numbers at special pricing to help clear extra inventory.
The Jizel Mesh Flexi  sole is super-flexible, perfect for the precision Latin dancer who really wants to work the floor.
The Jizel Mesh Flexi  is available in Dark Tan Satin with a 3" heel, or in Black Satin.

Ladies shoe with heel height of 3".

Front double strap with mesh sides;
Ankle-Wrap Strap;
Open toe.