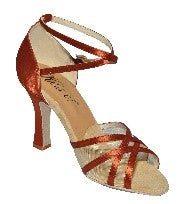 Jizel Mesh Flexi 3" Heel Dark Tan
Regular price $140.00 Sale
The Jizel Mesh Flexi is part of the Jizel family (also available in lower heel, without the super-flexible sole). It is a gorgeous peep-toe shoe featuring a double front strap with mesh sizes, and a double-wrap strap. The mesh front keeps your toes from "popping out of the side of the shoe" and has a bit of a stretch to accommodate foot or toe variations.

The Jizel Mesh Flexi  sole is super-flexible, perfect for the precision Latin dancer who really wants to work the floor.
This series of the Jizel Mesh Flexi  is available in Dark Tan Satin with a 3" heel.

Ladies shoe with heel height of 3";

Front double strap with mesh sides;
Double-Wrap Strap;
Open toe;
Dark Tan Satin.