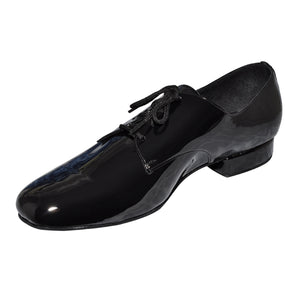 Duke Patent Leather Man's Shoe
Regular price $190.00 $190.00 Sale
The Duke Patent Leather is a super-comfortable no-nonsense man's dance shoe. Made of patent leather with a suede sole, the shoe will conform to your foot, making it feel like your foot is being hugged. The sole provides super cushioned comfort; this is a wonderful solution for the instructor or dancer who is on their feet for many hours a day.

The Duke Patent Leather can also be worn as a street shoe for that formal occasion or for ramping it up a notch with your attire. If you prefer, take it to a shoemaker and have leather added to the sole; this way you can still use it for dance as well as a street shoe.

Practice or performance style.

Double-sole*.

1/2" heel, wide and stable.

Black patent leather with black suede sole.


Tends to be on the narrower rather than wider side; order up or down accordingly.
*Some larger sizes may have single sole, in which case a $10 credit will be applied to your order.