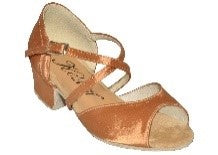 Contessa NT Wide Width 1-1/4" Heel LIMITED SPECIAL OFFER!!!
Regular price $130.00 $95.00 Sale
The Contessa NT Wide Width is a classically beautiful dance shoe. An open toe shoe, the front features a tapered wide strap, and the back features a secure double-wrap buckle strap. The front strap and shoe base is wide, helping those with wide feet, bunions, or other "toe" issues.
This shoe is in "competition color" tan satin.
This limited special offer is to help clear extra inventory. We have a terrific range of sizes available, from size 6 to 11 (US sizes).

Ladies shoe with heel height of 1-1/4";
Wide, stable cuban-style heel;
Wide width single tapered strap.
Double-wrap buckle;
Open toe;
Double sole for padded comfort;
Satin Tan.